Happy Thanksgiving to All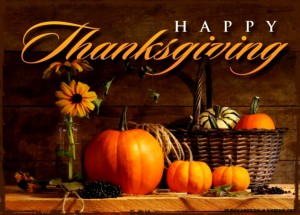 I think most secular holidays are artificial attempts at reintroducing seasonal meaning into the calendar after our Protestant forefathers destroyed the Roman Catholic liturgical calendar, which had adequate celebrations throughout the year to help sanctify the time, but Thanksgiving* is an eminently beautiful and even Christian holiday, and I have always enjoyed it, especially because we bring food to share, and don't stress about gifts on this blessed day.
I am thankful to all of my family and friends; those who have stuck by me all these years, and those whom I've recently met. May those of you reading this who celebrate American Thanksgiving enjoy your day. May the rest of you all around the world have a peaceful Thursday. I love you all!
(* Thanksgiving seems to be the American secular equivalent of the Feast of Michaelmas, from what I can gather).