The Samaritan Woman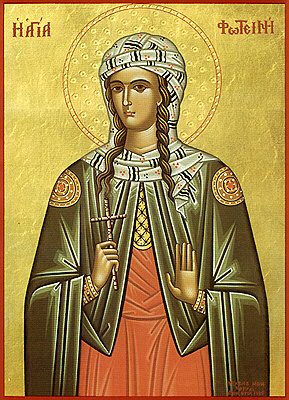 Dear Friends in Christ,
Christ is Risen! Χριστός ανέστη!
We've passed through half of the Paschal season, and will soon be celebrating the Feast of Pentecost, which falls this year on May 23. Pentecost is the day when Christ sent His Holy Spirit upon His Apostles so that their souls would be illumined and they would be given the power and divine wisdom needed to convert the nations. In between these two great feasts, each Sunday has a special theme; in this message, I will address the Sunday of the Samaritan Woman.
The Gospel reading for this feast comes from John 4:5-42. Christ comes to a city in Samaria called Sychar, and encounters a woman there at about the sixth hour. The sixth hour, which would have been around high noon, was a very hot time of the day, and it is unlikely that many women would have gone to the well at this time. It seems that our woman was forced to go then, because of the social stigmas attached to her. When Jesus asked her to get her husband, she responded that she had none; and Jesus revealed that not only did He know that she had had five previous husbands, but that her current partner was not married to her.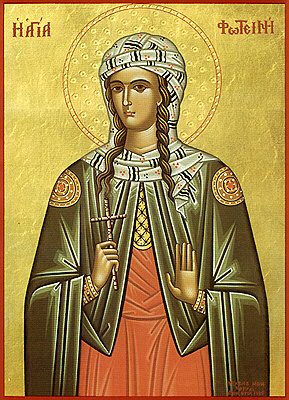 St. Photini, the Samaritan Woman
Furthermore, this woman was a Samaritan, a group of people who were regarded by the Jews as heretics. They are traditionally believed to have diverged from the main body of Jews at the time of the Exile, and had developed their religion along different lines. Christ was therefore breaking several societal conventions by speaking to this woman, but as He Himself stated, He came "not to call the righteous, but sinners to repentance" (Luke 5:32). The Samaritan Woman would play a key role in the spread of the Gospel, and Holy Tradition describes her as being named Photini. She was baptized on Pentecost, and eventually converted the Roman Emperor Nero's own daughter. For this, she was martyred.
I would like to expound upon two points found in this Gospel. The first is that the Samaritan Woman was like many of us today. She moved from husband to husband, and was living in sin. Our modern world is full of people who have been married many times, or who are now living in sin. Quite possibly, some of you receiving this bulletin or reading it online are yourselves living with someone outside of marriage. Yet it was to this very person that Christ Himself approached; Christ, who is God incarnate, the creator of the universe, and who was born to the pure Virgin Mary, who Himself was sinless and pure, did not stop from approaching a heretic, a sinner, a woman—all things unlikely for a male Jew of His day. Christ already had twelve male apostles, yet He chose this woman specifically for missionary work as well, and at a completely unexpected time. You who are living in some sinful arrangement, Christ is speaking to you today! It is not too late to take a different course, to restore your relationship with Him. Do not fall in to either extreme, the one saying you have done too much to be forgiven, the other saying that God is loving and will forgive you even if you do not repent. God will forgive you no matter what you have done, but He does ask you to have a change of heart, a change in the way you live. When you do this, and either return to or approach for the first time the Church, you will enter a relationship with God which will restore you to what God originally intended you to be, solely based on His love for you and His grace. But some effort is necessary on your part, because while the gift is free, it has to be freely accepted, and that entails some preparation on your part.
You who are not living a life like the Samaritan Woman, are you doing everything in your power to love those who are not following Christ? Are you judging them in your heart, and despising them? While we must all avoid evil and sin, recall that when God looks at the sinner, He still sees His own image. The image of God cannot ever be erased from man. But the likeness is muddied by the outer covering of sin. Do not be a hindrance to those outside; be welcoming and loving. Invite them to Church, no matter what they are or who they are, and give them a chance to see the Orthodox Church, the original Church of Christ.
A second point I would like to address is how Christ came to call the Samaritan Woman, who was not a Jew. The Church is the "New Israel," and as such, consists of those who are one with Christ through faith, and have been baptized into His death and risen anew, putting on Christ (Galatians 3:27). Yet it often happens that those who are called do not fulfill their duty; that those who are already in the Church have functionally left it, by non-participation. In these situations, God will reach beyond the norms we are used to, and bring others in whom we would never expect, to fulfill His plan. In our parish, we have Orthodox families, but we also have non-Orthodox families who have been called by God, and are now supporting us in our efforts. We are spreading the Gospel of Our Lord, God, and Savior Jesus Christ throughout the region of Eastern Carolina, reaching the people of Greenville, Washington, Belhaven, New Bern, Goldsboro, Rocky Mount, and beyond; our internet ministry is reaching people all over the world, in fact.
There are Orthodox families in the area who have not responded to the call of Christ to support the Church in this area, sometimes because of hurt suffered in the past as other efforts failed, sometimes because other things have become priorities. If you are such a person, we welcome you to our parish starting today; make today a new beginning and come and meet your brothers and sisters who having been working patiently and modestly to build up the Church here, preparing it for you, hoping to see you here, praying for you and your family all along. But if you are not Orthodox, and are on our mailing list or reading our website, know also that God has called and is calling all peoples into His Church, and others are responding as well. The Church is for all people: Americans, Greeks, Russians, Hispanics, Serbs, and anyone else who wishes to find the truth of Christ. Just as the Church in the New Testament times brought together Jew and Greek into one people, so today the Church is bringing together natives and immigrants, all races, all backgrounds, sinners and saints. It is truly a beautiful thing to witness.
Let St. Photini, the Samaritan Woman, guide us to repentance, to acceptance of others' faults, and to following the call of Our Savior Christ. And let us anticipate the great day of Pentecost, when God's power was made manifest to the world in a dramatic way, that same power which is available to one and all, even in our age!
In Christ,

Fr. Anastasios